At West Coast Sealing Solutions, our company specializes in countertop sealing and other various services for granite and marble countertops. Granite and other natural stone materials are preferred for upscale homes and commercial buildings as they provide a classic look, while still remaining resilient and durable. Although these materials appear to be maintenance free, all of them are porous and must be properly sealed in order to be protected against contaminates, staining, and dirt build-up.
Over time, oils, food stains, mold, mildew, and dirt will affect the look of your stone surfaces, and make them very difficult to keep clean….and water penetration can damage the inner structure of the stone itself. West Coast Sealing Solutions provides a one-time process that will literally solve these problems forever.
Cleaning, Polishing, Sealing, Refinishing, Care Preservation,
Restoration & Beautification for Granite & Marble Countertops is
What We are Best
at!
We take great pride in every job we do to bring the beauty and protection back to all of your stone countertops. Granite is amongst the sturdiest and most resilient of all natural stone types; although most commonly known and used in kitchen countertops, Granite can also be used in surfaces like countertops in the bathroom, showers, floors, etc.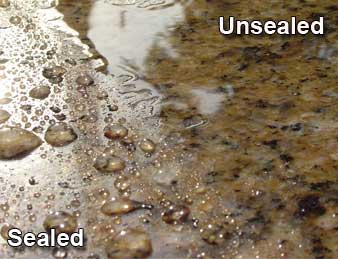 The quality of our work on granite and other stone tops is guaranteed to bring you the best results, we take pride in the workmanship and quality of jobs that we produce. When doing granite or counter top restoration we pay very close attention to All the details. We have great confidence that you will love the quality of our natural stone restoration work. We are only satisfied when our customers are happy, we like to be able to put a smile on your face. We have your stone surfaces covered: Granite Sealing, Marble Sealing, Flagstone, Slate, Stone Sealing & Refinishing, Countertop Restoration, Concrete Driveway Sealing, Paver Sealing, and so much more!
Let West Coast Sealing Solutions be the Solution to all your Cleaning and Sealing needs.
Let Our Work Speak for Itself
West Coast Sealing Solutions Proudly Offers Service in the Following Areas
Valrico
Hillsborough County
Pasco County
Polk county
Manatee County