Paver Sealing is one of the best way to protect your driveway and pool pavers from fading and damages. Have you ever seen a house whose beauty was lost in the unattractiveness of its exterior? Homes with faded or unattractive exteriors tend to lose their value because people generally focus on what they see on the outside (curb appeal). This is why it is important that homeowners maintain the outside areas of their property all at the same time while adding value to their investment. If you have invested in driveway or pool pavers, bought a residence or business that already had pavers, now its TIME to care for your pavers properly.
Driveway and pool paver sealing enhances its the natural color of the pavers while providing a durable, protective layer that prevents staining, inhibits mold, algae, insects and weeds. Sealing, protecting, and preserving your paved areas, against the Florida's sun, and damaging uv rays will show their worth and beauty while outlining your beautiful residence or business for years to come.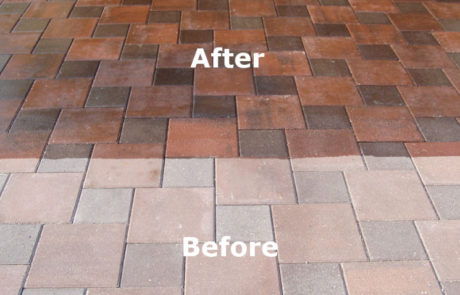 Cleaning
We start the paver sealing process by applying environmentally friendly chemicals to kill any mold, algae, and weed growth. Any stains that need special treatment will be addressed at this stage as well. Using a high GPM (gallons per minute) pressure washer, we clean the pavers with just the right pressure to not damage the brick paver but get them clean and ready to be sealed. During this step we intentionally "empty" the joints of all previous sand and dirt.
Efflorescence & Stain Treatment
Efflorescence is a crystaline deposit on surfaces of masonry, stucco or concrete. It is whitish in appearance, and is sometimes a serious issue. The formation of these salt deposits are not mysteries. They are, for the most part, water-soluble salts that come from many possible sources to mar and detract from an otherwise beautiful and serviceable structure
Using a mild organic acid called an Efflorescence Cleaner removes any surface residue as well as penetrates into the paver to dissolve any other salts that will produce the white haze in the future. This is a crucial step in the process as it is your only chance to treat it before sealing. Once it is sealed it will be locked under the sealer if it surfaces. We include this treatment into the cost of our sealing process.
Sanding
Once the pavers are clean and the joints have been emptied we proceed with sanding. During this step we work a coarse sand into the joints. Our unique "wet sanding" method includes a specialized technique where we use low pressure water spray to work the sand into the joints for optimized density and joint stabilization. This is time consuming, however, a vital step in completing the process as required by the manufacturer. Over sanding, under sanding, dry sanding and using the wrong sand are prevalent in almost all paver sealing jobs we see by other companies.
Fact: A properly sanded joint should be 1/16″ to 1/8″ below the edge of the joint. (you shouldn't see sand everywhere like if it were grout!)
Sealing
So now the pavers are cleaned and sanded we go over the surface with a leaf blower to remove any loose sand particles to provide a smooth surface. Once that is completed we proceed with applying the sealer. The All-In-One-Day state of the art sealer we use is breathable. This means even a little moisture remaining in the joints or surface will be allowed to escape and not "blush" (turn white). This allows us to apply a flood coat of paver sealer that penetrates deep into the joints and hardens the joint sand, creating an interlocking in the pavers and keeping the weeds and insects out. We follow the flood coat with a higher concentrated mixture of paver sealer that provides the surface protection and enhancement that will leave the pavers looking wet, not glossy (if you choose our Super Wet product) or with a Natural looking finish (Natural Luster). We use a low psi electric sprayer for application. The use of a high psi paint sprayer is common practice by most all other companies and is the reason superior joint stabilization isn't achieved. On average we use more sealer per square foot than any other paver sealing company!
Stripping
This step is actually performed first, but only if you have come in contact with a bad sealant job or store bought sealers with inexperienced applicators. However, most pavers don't require this step. If you are unfortunate enough to have paid good money to see your pavers turn white or blotchy, then West Coast Sealing Solutions sends its condolences. Poor applications and cheap products have a way of showing their true colors in time….WHITE! When this happens the brick pavers turn either very foggy looking or completely white. The application of a very high end stripping agent must be applied and then the old sealer removed before you can apply ANY new sealer. West Coast Sealing Solutions only uses environmentally friendly products, including a BIO STRIPPER. It's safe to work with and has a long workable time frame which allows us to ensure a quality removal process. Our process of stripping the old sealer requires us to apply the stripper then cover it with plastic. Depending on the time of year we may let it sit for a few hours or overnight. Then we must painstakingly pressure clean all the old dissolved sealer off. A job for professionals!
We Clean: Concrete Pavers, Brick Pavers, walkways, pathways, driveways, sidewalks, patios, pool decks, counter tops, tile grout, homes, and businesses. We use special Cleaning equipment in conjunction with our specially formulated cleaners to penetrate deep inside of the cement pores releasing ground- in dirt and contaminates. The process works without damaging or discoloring the pavers. This process brightens the pavers or concrete and enables the high quality sealer to better penetrate the cleaned surface area.
We Sand: The sand in between the paver joints plays a very important role in the structural integrity of the pavement system. It creates an interlocking bond in between the pavers, and is a common point of failure if not done properly. West Coast Sealing Solutions uses a silica sand which doesn't produce as much nutrient growth as other fine sands do which lead to mold and algae growth.
We Seal: This is the final step in the restoration process of your pavers or hardscape. Your pavers should always be sealed to protect your investment. We seal with a commercial grade state of the art environmentally safe water-based industry leading sealer, Seal n Lock an ALL-IN-ONE day system product. Seal n lock has been addressing industry concerns for years now and exceeding its competition in every product and aspect of the paver and concrete sealing industry. This high performance sealer will create a protective finish that will retain the look of your hardscapes. The technician will carefully blend and spray the sealer through an electric sprayer to achieve and grant our customers a professional, uniform high end final product. Sealing gives you the peace of mind that your pavers and hard scapes will be protected against fading, discoloration, stains and surface deterioration for many seasons to come. Don't wait save your pave!!
SEAL TODAY!!!!
We Can Seal The Deal
Sealing protects and preserves your paved surfaces from deterioration. It does not only make your surfaces look good, but it also protects them from natural and environmental threats. This method effectively prevents staining since the sealant acts as a protective coating. So no more worries if you accidentally spilled some oil or grease on your pavers. It is also recommended to shield the pavers from the usual wear and tear like color fading and ashing.
Here at West Coast Sealing Solutions we take the time to inform our customers how to properly care for, and preserve their pavers or other stone hardscapes. If your paved areas are properly cleaned and sealed, they will bring you the natural beauty and result you have always wanted in your curb appeal. Let us help you protect your investments .We focus on providing our customers with nothing less than the best products and sealing services around.
Leave it to the professionals!
Call us we can help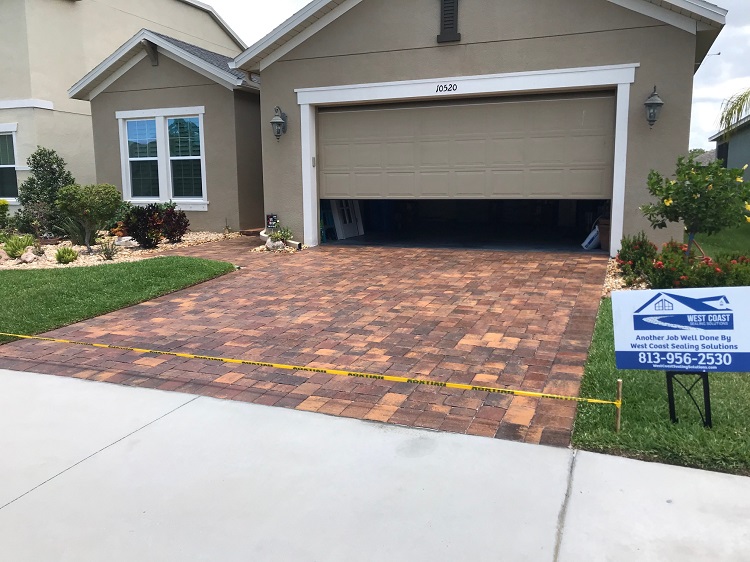 West Coast Sealing Solutions Proudly Offers Service in the Following Areas
Valrico
Hillsborough County
Pasco County
Polk county
Manatee County